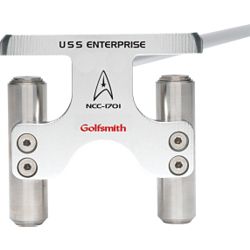 I thought this was a joke.
Golfsmith NCC-1701 Putter Head: Boldly go where no putter has gone before. This fully USGA conforming, officially licensed collectible shares its looks with the famous STAR TREK® U.S.S. Enterprise NCC-1701 starship from the classic television series.

But its out-of-this-world look is not just a novelty. With a moment of inertia (MOI) of 6818 g-cm² — 40% higher than average putter MOI — the NCC-1701 is the most forgiving putter head we offer. Most of its weight is positioned in stainless steel heel and toe weight cylinders which give the CNC-milled putter head its unique look — and also serve as alignment aids.

The milled aluminum body features an advanced urethane face insert for soft, solid feel at impact. Whether you are a true fan of Mr. Spock or are in search of a putter head design with ultimate forgiveness, the U.S.S. Enterprise NCC-1701 is a great way to "beam it" into the cup.
Whatever happened to "plain in shape?"